ai_podfic
Here are the lists of all the AI podfic (I could find):
Season 7
Season 8, Kris/Adam
,
Season 8, other pairings
Other Season
(currently, only S9)
We have an (out-of-date) list of
AI author's with Blanket Permission to Podfic
. For a more complete and up-to-date list, please see the
Blanket Permission to Podfic List
at Fanlore.
And if you're new to podficcing and would like some help, please see
my Podfic 101 tutorial
Welcome to
Fic
:
from this moment (you are the one)
by
jeyhawk
(text link)
Fandom
: AI8 RPF
Pairing
: Kris/Adam
Length:
1:33:17
Links:
MP3
|||
M4B
Summary:
To save his family's winery Kris accepts a surprise proposal from an old friend. Contemporary Arranged Marriage fic, just go with the flow, okay?
(
Streaming
Collapse
)
Notes:
So apparently I recorded this years ago at an attempt at a 3 Day Novel Podfic weekend and failed horribly since pretty much none of it was edited when I decided December 29th to poke through my recorded but not edited podfic to see if I could get one more podfic squeezed out for 2018. The great thing about waiting this long to edit is that it's like experiencing the fic anew while editing, which makes it so much more fun, especially with a fun fic like this.
Mod note:
I've updated the masterlist, but since this was the only new podfic since the last update (that I could find) I'm not going to make a separate post.
Wow, it's been 9 years since American Idol S8 aired, and we're still getting new podfics in that fandom. I updated the
Fic: To Soar on Chromatic Wings by
deannawol (also on AO3)
Reader:
eosrose
Cover Artist:
akamine_chan
Fandom: American Idol RPF
Ship: Kris Allen/Adam Lambert
Rating: Mature
Warnings: [click to view]Cyberpunk, Dystopian Future, Threat of Sexual Violence, Violence
Summary: His name is Adam, and like his namesake he was the first of his kind. A true pinnacle of cyberhuman evolution. A workbench of the most creative technology ever conceived. A mesh of metal and meat, perfect in every way. Except one. He is uncontrollable. Even now, teams of our finest hunters are tracking down even the vaguest of rumours. But until he decides to ping the grid, we may as well just sit and wait.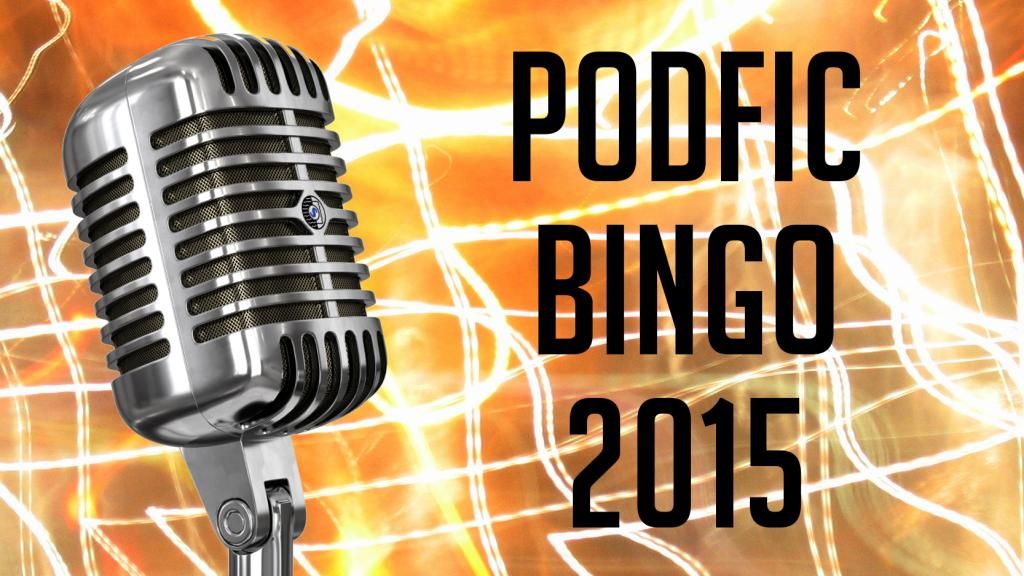 Sign ups open March 1, 2015 podfic_bingo (LJ|DW)


What is Podfic Bingo?
When you sign up for Podfic Bingo, you'll be given a bingo card with a number of podficcing challenges on it. The point is to push you to try different things when podficcing. Maybe push you out of your comfort zone and to try different styles in a safe learning environment. If you've always wanted to try something different when podficcing, this comm can be your excuse!


You'll have till the end of the year to work on your card.


See our Welcome Post for more info (LJ|DW)
Title:
Like a Ghost of the Past
Author:
arianne_maya
Reader:
wynkat1313 /
wynkat
Season: 8Rating:
NC-17
Pairing:
Adam Lambert / Tommy Ratliff
Length:
3 hrs 45 mts
Summary:
Adam had stared at his cell for long seconds. Or minutes, maybe. He isn't sure. Then he finally looked at Tommy and he said, "You won't even remember me, Tommy."
Tommy had kissed him, soft and sweet. "Don't be silly. How could I forget you?"
A/N:
Created for Round 3 of Lambliff Big-Bang

Link to Podfic on AO3
Link to fic on AO3
This update adds a new podficcer to our lists and 2 podfics which were not crossposted to the comm:
Houndstooth and Gray
written by
LittleMousling
, read by
shifty_gardener
(Adam/Brad 0:32:32)
Adam's concerns about Brad's Twitter may be less about PR than about his own regrets.
Soft Shoulder
written by
winterlive
, read by
shifty_gardener
(Adam/Brad 0:37:15)
Adam and Brad attend the GLAAD Awards, and it's just like old times.
This update added 3 podfics, from 2 podficcers, totalling 3:56:10. Season 8 podfic, as a whole, now stands at 51 podficcers, who've made 288 podfics, lasting 180:51:28 (that's over 7.5 days!).
I have once again updated the masterlists, and this time I didn't wait more than 6 months \o?
Fic
:
The Road Less Travelled
by
jeyhawk
(text link)
Fandom
: AI8 RPF
Pairing
: Kris/Adam
Length:
2:46:14
Links:
MP3
|||
M4B
Summary:
Future fic.
Sometimes the road to happiness is brightly lit, easily navigated, and smooth. Sometimes it isn't.
(
Streaming
Collapse
)
Notes:
Cover by
aethel
So, this is my 100th work posted to AO3 and I wanted it to be something special. I had recorded this podfic back in February of 2012 after the excitement of hearing the new music Kris performed during his show at the Mint. And, in fact, the opening music is from that performance.
It seemed appropriate that this podfic be my 100th here.
(
Warnings
Collapse
)
Wynkat
and
pensnest
! \o/
This is also the update, where we finally hit a point where the Season 8 list is getting too large to keep in one post. As a result, I'm breaking it into 2 posts. One with
Kris/Adam
, one with all the
other pairings and gen
.
---
From
Wynkat
we have:
Filthy Gorgeous
written by
toobusy2write
(Adam/Tommy, 1:14:47)
Most of the time the tricks who wanted a sub didn't really know what to do with one once they had him. Sometimes, though, someone came along and rocked Tommy's world. This was shaping up to be one of those times.
Gift of Silence
written by
aislinn
(Adam/Tommy, 0:02:58)
Tour is overloading Tommy's senses, Adam helps make it better.
Like There's No One Around
written by
RagingRainbow
(Adam/Sonique, 0:06:37)
Oh honey, when was the last time someone took care of you?
Of Blow Jobs and Pretty Boys
written by
minxie
(Adam/OMC, 0:02:50)
Please to be seeing the title.
Of The Same Reality
written by
minxie
(Adam/Tommy, 0:04:11)
Through time and space, across states and continents and galaxies, the same scene is playing out.
Photograph
written by
Thraceadams
(Adam/Tommy, Adam/Brad, 0:41:00)
Adam and Brad go out and a photo is taken. The photo and subsequent Twitter explosion causes Tommy to question whatever it is that he and Adam have together.
Under His Spell
written by
ArianneMaya
(Adam/Tommy, 0:06:27)
Adam knows he should either turn around and head to his room, or come out of the shadows so Tommy knows he's there. Turning his straight best friend into jerk-off material is crossing far too many boundaries.
Want written
by
Leela
(Adam/Tommy, 0:05:44)
He's never seen Tommy like this, so exquisitely desperate. All of his defenses are gone, and Adam wants him, needs him... just like this.
We're Howling Forever
written by
autoschediastic
(Adam/Tommy, 0:53:15)
Adam's not out of tune with his body, but he's gotten so used to controlling it over the years that sometimes it takes reading Tommy's to know what his own wants.
---
From
pensnest
we have:
Let The Cat Out Of The Bag
written by
lizibabes
(Adam/Tommy, 0:14:32)
Tommy has a secret, a furry secret. This is what Happens when Adam finds out.
---
We also had a couple of podficcers returning with more AI podfic!
From
dapatty
we have:
The Great Glam Bake Off (Outlaws of Flour)
written by
ermengarde
(Gen, 0:11:55)
The Glamily do a special of the The Great British Bake Off for charity (fic assumes you have as much knowledge of this show as Tommy does, which is to say none at all).
---
podklb
and
opalsong
put out some co-recordings:
Concessions
written by
astolat
(Kris/Adam, 0:35:51)
Adam jabbed Kris in the side with an elbow to interrupt him and said, "Okay, so I am giving you fair warning here, the next time you say one word about how I deserved it, or how sorry you are, or for that matter just spend your interview time going off on how awesome I am, I am going to be so totally overcome with love for you that I am going to have to kiss you."
Synaesthesia
written by
astolat
(Kris/Adam, 0:13:36)
The tentacles looked almost like jewelry, sort of iridescent-shiny blue and purple, speckled with pale silvery spots, and they wound around Adam's wrists and up into his palms and coiled there, like small glittery snakes.
---
Since
podklb
has been crossposting her back catalogue of podfic to AO3, I found a podfic from 2010 by her that somehow wasn't on the list already:
Everything All the Time
written by
battleofhydaspe
(Kris/Adam, 0:33:22)
"I'd totally hit that," Kris laughs. He shifts and sinks lower on the bed; the flowery bedspread bunches up under his thigh so he kicks at it, trying to straighten it up. The laptop wobbles precariously on his stomach.
---
From
eosrose
we have 2 that I had previously missed:
Nor Iron Bars + Afterward
written by
astolat
(Kris/Adam, Kris/Katy, 0:04:44)
What he didn't expect was how it took him apart.
Paying the Rent
written by
astolat
(Kris/Adam, 0:29:49)
It was long since dark, and Kris was having to stop playing every fifteen minutes or so to blow on his hands and warm them back up.
---
From
argentumlupine
we have:
I Want Your Hands on Me
written by
lizibabes
(Adam/Gerard Way, 0:10:36)
Adam has been touring with My Chemical Romance, but now the tour has come to an end.
---
And lastly
inkjunket
and I did a co-recording of a bandom podfic, which features Adam (with some blink and you miss it implied Kris/Adam):
petewentz @ stumpalicious
written by
svmadelyn
(Pete Wentz/Patrick Stump, 0:13:42)
Pete and Patrick, at the end of the world.
So that's 18 podfics, from 9 podficcers added to our masterlist (totally 6:05:56 added)! We now have a total of 285 S8 podfics, spanning 176:56:27 hours! \o/
So, it's been a while since I've updated the masterlists here (over 7 months :S), but that means I have quite the treasure trove of podfics to add (18! Almost 6 hours worth!). We have 2 new names to add to the lists, putting us at 50 different podficcers for S8! I'd like to welcome
Since the Season 8 table got to be too big for a single entry, I've now broken it down into pairings. This entry is for all the podfics that feature pairings other than Kris/Adam. There are some (repeated) podfics that feature Kris/Adam, but also feature other pairings as well. Please see